When George started Daily Dose, he noticed that today's juice industry is filled with concentrates, so he decided to concentrate on what's important – health, wellbeing and nutrition.
After graduating from university, George developed a passion for health and fitness and began juicing as an alternative to consuming sugar saturated soft drinks. As his obsession grew, he discovered the vast volume of produce wasted daily due to it not conforming to the supermarket's strict criteria on shape and size. This revelation prompted George's commitment to fighting the food-waste epidemic by using wonky, surplus organic produce to make our juices.
That's when it all sparked for George. When his friends went off to find jobs in the City, he began building long lasting relationships with British farmers across the UK. This meant, Beetroots from Bedfordshire, Carrots from Peterborough, Apples from Surrey and Greens from Lancashire Once he'd collected all of his patriotic produce, he was ready to (hopefully) set London alight and his grand plan would all start by selling to his local café on Bellenden Road, down the road from where he grew up.
That might have seemed enough for some in the fight against food waste, but not George. He realised that at the tail end of production, we could collect all of our left over pulp and have it sent to farmers to be fed to their livestock. Meaning in the end we'd come full circle and give back to nature what we'd taken.
Now, a lot has happened since all that. We've moved from his kitchen, to a small warehouse unit in West Norwood and now to our 2,500 sq ft Battersea pressery, fully fitted with automated, juicing, filling, capping and labelling machines. However, unlike our produce, we never lost our roots, and still to this day supply that very same café on Bellenden Road.
We're not going to stop fighting food waste, we'll continue to rescue tonnes of wonky produce each week. As we grow, our impact will get larger and larger and we hope you'll stick around for the journey and join our Romaine Empire.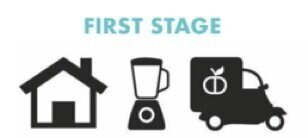 In February 2016, we began juicing from home using a domestic sized juicer. Delivery runs were made using our trusty Piaggio Ape.
We expanded our operation by doubling up on domestic juicers, which we had a stationed in a larger mobile factory.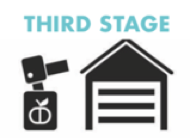 We moved into a 500sq ft facility and upgraded our machines to an X1 juicer, which could produce 70L of juice an hour.

In November 2016, we set up in a 2,500sq ft rail arch in Battersea. We have upgraded to a state-of-the-art high capacity industrial juicer, which means we are now equipped to juice 800kg of producer per hour.

We are now in the process of setting up a new production facility. We are upgrading our process to include automated filling, capping and labelling, as well as buying a much larger capacity juicer, which is capable of producing 3x more juice.